Spinning Class Instructor Insurance: What Do I Need?
October 11, 2017
What kind of indoor cycling instructor insurance do you need? Due to the fast moving, aerobic nature of indoor stationary bicycle riding, aka "spinning", as a spin instructor or owner of a spinning gym you should have an affordable general liability insurance policy.
You may also want to consider spin instructor insurance coverage to protect yourself from claims of sexual abuse and/or molestation, medical payments and professional liability insurance.
The bottom line is that as a spinning instructor, you can protect yourself and your business by knowing the types of liability insurance you should have and securing affordable coverage.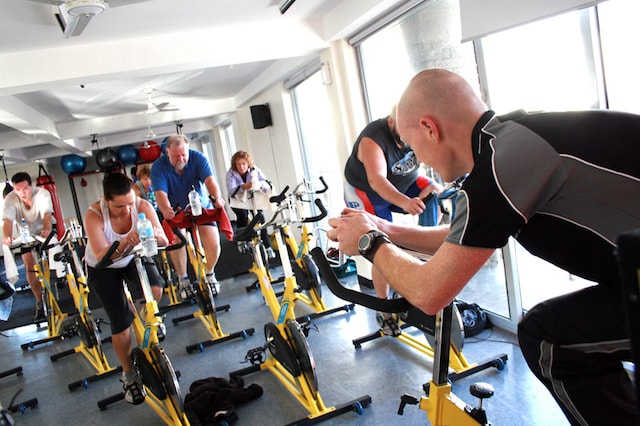 What are Indoor Cycling Insurance Risks?
You may not need all of the following types of coverage but read on... Due to the unique nature of spinning, you would be wise to have some form of indoor cycling instructor insurance.
This is because with the weighted stationary bicycle wheels and the competitive environment that spinning fosters, injuries are possible or over exertion may occur at any time before, during or after a spinning workout.
Examples of potential spinning hazards:
In the Zone: A participant who is totally "in the zone" sweats profusely on the floor and doesn't clean it up, leading to a slipping hazard. After the workout their neighbor on the next bike slips on the sweat, falling down from the upper bike tier to the middle tier and chipping her front tooth in the process.
Hit the Brakes!: A student is going full speed and suddenly decides to stop the weighted wheel of the bike with their legs… But the wheel keeps going twisting the student's ankle and tearing their knee tissue in the process.
Feel the Beat: Getting into the music, a student tries to maintain his 150 BPM heart rate and 500 Watts of power for an extended period, over-exerting himself. The next thing you know he's is on the floor having a heart attack... Do you know CPR?
Any of these could happen during a spinning class.
FITCO offers general liability as well as professional liability coverage for spinning class instructors including certified professionals, franchise owners and operators and independent contractors.
My Gym Offers Spinning… What Insurance Do I Need?
If you are running a gym, school or recreational center that offers indoor cycling, your instructors should provide you with copies of their liability insurance. You should also ask them to have your gym named as an "additional insured" on their policy.
In addition to requesting proof of spin instructor insurance from your trainers, your gym should also have a business property and general liability policy, as well as other insurance such as workers compensation and employment practices liability insurance.
Does Spin Instructor Insurance Include Professional Liability?
Professional liability coverage provides you with protection from claims of negligence while delivering professional advice or performing professional services. For personal trainers and athletic trainers, professional liability can also be referred to as malpractice insurance.
If a client follows your professional advice in the course of your duties as a spin instructor, and they hurt themselves, they could make a claim against you for negligence. Indoor cycling instructors choose the music and set the pace of the spinning regimen for their classes. As such, your students may blame you for any injuries they suffer.
Athletic trainer professional liability insurance, is also referred to certified trainers professional liability, or as errors and omissions (E&O) insurance or malpractice insurance.
Join the thousands of certified personal trainers who have chosen FITCO to protect them from being sued for bodily injury or damages that may occur in the course of their training.
What are the Benefits of Spinning Instructor insurance from FITCO?
Affordable: Insure yourself for as little as $ 0.63 cents per day.
Credibility: Establish credibility and professionalism with your clients and partners by having insurance. They will appreciate when you tell them that you have spin instructor insurance and that you may provide them with coverage as additional insured at their request, as described below.
Broad protection: Unlike certain other spinning instructor insurance policies that exclude important coverages such as sexual abuse and molestation, FITCO includes sexual abuse and molestation coverage automatically. Also, fitness instructor professional liability coverage can be added for a small fee as an additional endorsement at your request.
General Liability Coverage:
$1,000,000 per occurrence/$3,000,000 aggregate
$100,000 sexual abuse/molestation coverage
$1,000,000 personal & advertising injury coverage
$3,000,000 products and completed operations coverage
$100,000 damage to rented premises coverage
$2,500 medical payments coverage
Need more coverage? No problem! Additional per occurrence and general aggregate policy limits are available up to $2,000,000 per occurrence and $5,000,000 aggregate for only pennies a day.
Additional Insureds: If you are a spinning instructor who provides classes at a local gym or rec center, the gym owner may require you to name them as additional insured on your general liability policy. With FITCO, adding a gym or rec center as an additional insured is no problem. In fact, the first 10 additional insured are free, and just $25.00 thereafter. Zero deductible: General liability policies have zero deductible. Certified trainer professional liability insurance may also have zero deductible.
Continue Reading...